On Wednesday morning my mom took the girls to dance. Lydia continues to adore her hip hop class, and Mary seems to still like ballet. Afterward, they played with the babysitter until nap time.
During Ammon's nap, Mary persuaded my mom, who had a full schedule, to have another tea party with her. My mom agreed on the condition that the party be short. Mary promptly served her a million servings of tea and then lay down on her side of the table because she "needed a nap." She has all sorts of tricks to extend her tea party time out.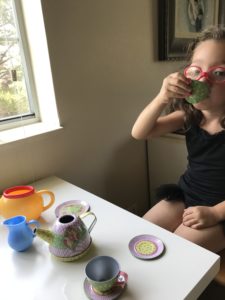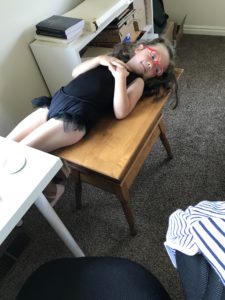 Abe had a wonderful day at work and is incredibly busy right now. He is trying so hard to get his work done by this evening so we can rearrange the house for Clarissa. We are turning the office into Ammon's room so that the nursery can be for Clarissa. We are also rearranging the girls' room so that they can still have an arts and crafts space without an office. And we are setting up a sewing station in our bedroom so I can sew outside of the office. (Never mind that I sewed for the first time in years just last weekend. I feel like I "need" a sewing space just.in.case.)
We also have to tackle the crazy messes upstairs. I have felt zero motivation to clean the girls' room and the office because I know we are going to address these rooms this weekend, but in the meantime…wow. They are out of control.