On Monday Lydia spent the whole morning listening to her hip-hop song from dance, Believe, by Imagine Dragons. She literally listened to it on repeat for hours straight, and when Ammon's nap time came, she climbed into bed and prepared to listen to it for the afternoon. She and Mary quickly became distracted by playing, but this is how nap time started: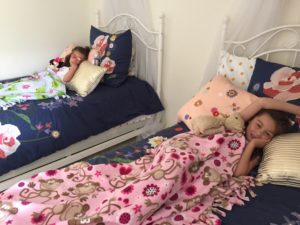 Also, Ammon is starting to learn all sorts of new words! On Monday he added "hoop" to his growing vocabulary. It's an appropriate accompaniment to his most favorite word, "ball."
In the evening Abe took the kids to Qualtrics for his team party. I think they had a great time, and he probably has pictures on his phone. I'll put them on here when he's home next and I think of it!