Today was Lydia's first day of school! We were a disorganized mess and didn't take pictures before she left. Thankfully my mom took some of her at school.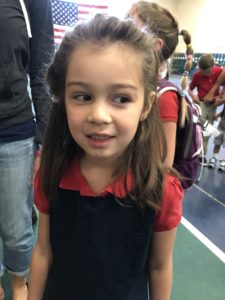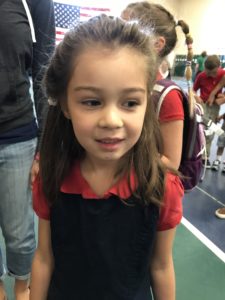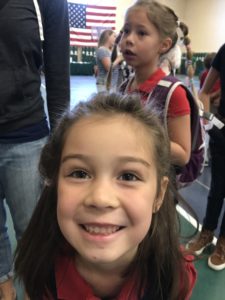 I: Forgot to take her pictures at home, forgot to pack her lunch, forgot to send her to school with her backpack and getting-to-know-you bag, forgot entirely about school supplies and sent her to school with ZERO, and I forgot to buy her uniform-approved shoes. At least I remembered to pick her up from school.
My mom took her to the pancake breakfast at the start of the day, but because I forgot all of the above, they had to come back home and ended up almost missing the breakfast. Good thing Lydia was in a terrific mood and loved school! A little girl named Grace asked Lydia to be her best friend, and that made her whole day.
After I picked up the girls from their schools, we headed home to grab some climbing clothes for Lydia and then zipped off to Lydia's first day of base climbing camp. It was a nightmare signing her up because I forgot to pack the stroller, and the parking lot was full. I parked out of the lot and carried Ammon (who is HUGE) and Clarissa across the parking lot and attempted to keep carrying Ammon throughout the sign-up process. That did not work, so I just darted around madly between signing forms to pull Ammon down from high places and rescue various store displays from him. Obviously, taking Lydia's picture was not in the cards today.
Clarissa's umbilical cord stump is falling off, and I kind of wonder if it bothers her. She is nursing non stop.
We are ready for bed, but Abe has so much work he will probably be up all night. 🙁