Abe and I went to bed at 7:45pm last night. Actually I thought Abe went to bed with me, but it turns out he got back out and read for two more hours before he fell asleep. Anyway, we have been getting up at 5am to do Insanity together, and because of our early bedtime last night, we could give our work-out our all this morning. It was the best part of our day.
Abe had a really hard, busy day. He had a lot of complications arise with certain deals, he got called out for something he did wrong, and Mondays in general are just busybusybusy for him. He also had to break it to me that he has two more work trips this quarter.
I also got called out, sort of. Mary's piano teacher seemed a little miffed that we never get around to practicing her staff and flash card notes, and I think he thinks I purposely avoid them because I am a Suzuki devotee. That is not the case at all! It's just that we are finally in a beautiful practice routine that is nevertheless exhausting, and after it's over I am usually daunted by the idea of yet more music. But I guess we will do them this week.
Here is happy Mary celebrating life after her piano was done. She's pretending to be a choo-choo train.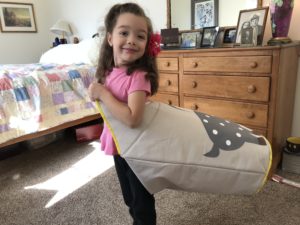 In other news, I started the novel, The Sympathizer, dropped pumpkin bread off for a sad friend, got back into the bedtime routine of scratching Lydia's back (after a five month hiatus), took the car through the car wash, vacuumed the car, and untangled an insane yarn knot today.