On Wednesday we just stayed home all day. I literally did not step outside all day, and by the end of the day I started feeling like I was caught in a Maurice Lautrec painting; around 8pm the whole house appeared to take on a greenish cast. Since I am not, as Lautrec was, addicted to absinthe (absinthe can make you see the world as slightly more green), I suspected I was starting to feel depressed. Being stuck on the couch nursing in poor lighting can make me feel that way. I addressed the problem by going straight to bed.
Before then it wasn't such a bad day. I had a lovely time with Mary during a Mary Mommy date. We made cookies together. I am reading The Shack, and the abduction of the little girl struck horror in my heart. I resolved to spend a lot more nurturing time with my kids because you never know what lies ahead. So I tried to put a lot of love into our activity, and at the end Mary said it was the best time ever.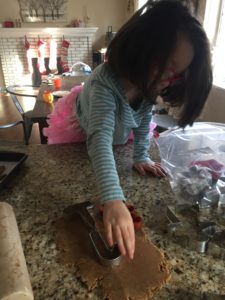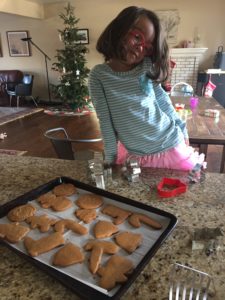 Abe got some good news from work, and so he has a little hope for his quota. He took a little break between work calls to play with Clarissa. She adores Abe and gives him her best smiles.