On Thursday I finally, finally got a hair cut to fix the bad one I got months ago. I absolutely LOVED Lindsay, my new hairdresser, who is also now my friend. The first thing Lindsay did when she saw me was light up and say, "I'm so excited! I love cutting ethnic hair!" I about fell over. In thirty-four years, no one has ever said that to me. Usually at best they tell me I have really thick hair and then admonish me to schedule more time to cut it if I come back.
Anyway, Lindsay and I immediately clicked. I felt so open with her, and she ended up telling me about her struggles with addiction and how she got clean a couple years ago. We talked about lots of other things too, including everything from secret gold mines in the mountains to family to the second coming. When she was done with my hair, we gave each other big hugs. I love her and hope she never moves.
I rushed home to try to get Abe to go to her, but he didn't have time. He was busy wheeling and dealing, trying to hit his quota. It looks like, against all odds, he will hit!! But it's taking years off of his life stretching to make it there.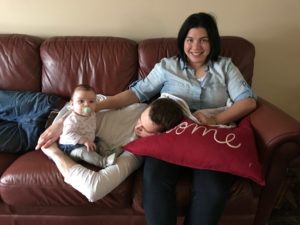 Then I went to my physical therapy and had another great interaction with my doctor's assistant. She was so nice.
Lydia and my mom had a Nana-Lydia date while I was in therapy and Abe took the other kids around town on errands.
At 6:30 Abe picked me up and we headed into Salt Lake to go to Trader Joe's and then see the lights with Tom.