The kids had Friday off, and in the morning we went in to Mary's parent-teacher conference. Mary is doing so well in kindergarten. She is very respectful and sweet, and she plays well with all of the other kids. Her teacher, Ms. Shawntel, said she wishes all the kids were like Mary. This was great to hear because right before the conference Mary and I had a piano practice where Mary was screaming all sorts of crazy things at me, and respectful really is the last word I would use to describe her behavior. It was very reassuring to know that she understands how to behave for her teacher at least.
The girls spent the afternoon playing with each other, Ammon, and Clarissa.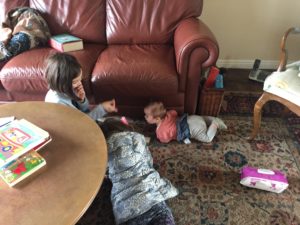 In the evening Abe and I went to a dinner at the Harpers' house with the Bakers, Lydia went to an Indiana Jones birthday party, and Mary and my mom went to the Lion King Jr., where our friend Olivia Marshall played young Nala. It was a full evening! Ammon stayed home with our sweet babysitter, Eliza Freestone.