Today Clarissa woke up at 4:30am, and as soon as I finished feeding her Abe and I did Insanity together. Abe had woken up when I fed Clarissa at 2:30 and had never fallen back asleep. Instead he prayed, meditated, and studied scriptures to stave off a nervous breakdown. We congratulated each other on our mutual survival during this season of life.
Then Abe was off to work and I stayed at home and ran the hamster wheel of feeding, diapering, cleaning, feeding, etc. I also managed to keep Ammon alive! And I made dough for springerle cookies, speculatas cookies, and cream cheese dough for jam filled cookies. I also fully baked a batch of zimmsterne (round #3 is the charm) and a batch of Dorie Greenspan's incredible brownies. I have been really curious about that last recipe because she uses a crazy method for baking brownies, but wow, the texture of that batter was out of this world.
Did I mention I am trying to lose weight before our January trip? Yeah, today was not great for that. In addition to all of the cookie baking, a sweet neighbor dropped off a batch of homemade rolls straight from the oven, four of which went directly into me. We also got an amazing package from our cousins Louie and Ginny from mouth.com. I was about to type what I ate from that package, but it's too embarrassing to list how crazy I was about food today. Maybe being up since 4:30am, nursing Clarissa all day, and feeling constantly stressed by various kid-induced factors throughout the day affected my judgment. Whatever the reason, I made really bad decisions all day long. I should probably be doing Insanity two or three times a day at this rate.
Right now my mom is at The Nutcracker Ballet with the girls. It is starting to be their tradition, but since my mom doesn't drive at night, I am about to leave and get them.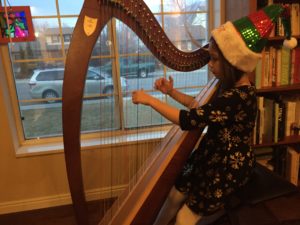 So that means this blog post is now over. Better luck tomorrow avoiding sugar, self!