Tonight we had Tori and Nate Jensen over for dinner. They were so nice. Nate wanted to talk to my mom about corporate law, and Tori works at Qualtrics, so she and Abe got to chat about work. Qualtrics really is an amazing company.
The kids were excited for company. Mary drew Tori a picture, and Lydia lent Nate her witch costume.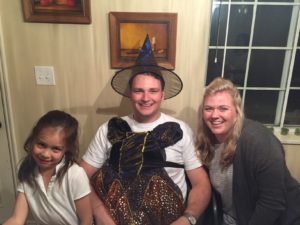 The kids were so good during dinner, but I got on Lydia's case for hitting Nate accidentally with a towel and doing a handstand with her boots on the counter. Afterward when Abe told the kids how good they were during dinner, Lydia said sadly, "Well, Mama said I did two things wrong." That broke my heart. She really tried so hard and I just focused on what she did wrong. She was asleep by the point I heard about that exchange, so first thing tomorrow I am going to tell her how proud I am of how sweet, good, and quiet she was for almost all of dinner.
Also, Mary got her darling kindergarten pictures today!