On Sunday we took it easy before our flight home. Swathi and I worked out in the morning and I had my first experience on one of those bikes that has a screen for a virtual work-out. I forget what it's called. It was fun.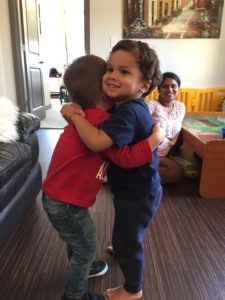 Our flight home was kind of awful, but we had incredible angels help us on the way. Ammon was a total disaster, but sweet strangers shepherded us through the worst parts. One of our angels was a Christian English teacher who had spent four years in North Korea teaching (she was Canadian). Another was a German nanny named Agnes who helped us carry our heavy bags. I also appreciated every single smile we got from strangers. When Ammon was screaming and crying, those sympathetic smiles meant a lot. I hope I remember this when I am in a different stage of life.
When we got to Salt Lake, I felt elated. The weather was great, and Abe and I felt so amazing for having survived this really difficult leg of the journey. We were so, so happy all the way to our home.